IT workers deal with both predictable and unpredictable situations, and their work is essential to smooth business operation.
While some IT processes cannot be taken over by automated workflows, many aspects of day-to-day IT operation can be automated. Doing this not only helps ensure efficiency and transparency, but also helps free up IT workers to focus on critical issues that can have a serious effect on business.
Here are four IT processes that can benefit from automation, and why your choice of workflow software can make all the difference in the success of IT workflow automation.
1. IT Procurement
IT procurement involves several steps including vendor selection, negotiation of contracts, replacement of old hardware, and vendor / license management. Automated workflows give IT workers (and any necessary approving authorities) a step-by-step process to follow to ensure no critical steps are missed.
An automated procurement workflow can also streamline procurement by automatically forwarding documents and orders to the next step in the process. With the right workflow software, it's easy to design the procurement process to create an audit trail that can help if a procurement instance has to be revisited later.
2. Basic Help Desk Functions
Automated workflows can be designed to cover several basic help desk functions, freeing up IT staff to tackle bigger issues. For example, a self-serve workflow for recovering a forgotten password can save significant IT staff time in the long term.
Automated workflows can be created for functions such as requesting use of a laptop for travel, downloading pre-approved apps, basic troubleshooting, or reporting problems like network outages. These workflows can also assign help requests to appropriate personnel and keep end-users informed of the status of their request, so IT workers aren't overwhelmed by phone calls asking for updates.
3. Assigning Equipment to New Hires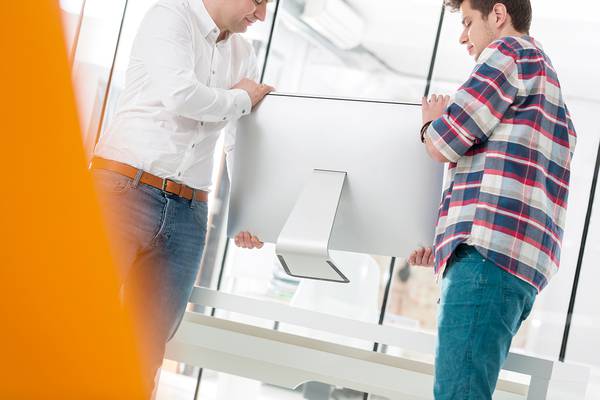 A simple workflow can ensure new hires have the IT equipment they need from day one.
New employee onboarding in general can benefit from automated workflows. Actual pen-on-paper processes can be considerably streamlined with good onboarding, and it's easy to incorporate a process for assigning a new hire the IT equipment they will need to do their job. In fact, IT equipment requests can be completed even before a new hire reports for their first day. Certain job titles may be associated with pre-defined lists of hardware and software to speed things up further.
At the other end of things, offboarding employees who are leaving can benefit from workflows to recover their IT equipment and account for it. This equipment can be examined and cleared in readiness for a new employee, helping minimize unnecessary purchases of new hardware.
4. Status Communications
The more IT processes involve automated workflows, the easier it is to incorporate automated status communications that prevent "phone tag" while keeping necessary people informed. If, for example, someone initiates a procurement workflow, status can be marked upon completion of various steps in the process. Then, the person who initiated the workflow can access the workflow and assess the status without sending someone to track it down in person.
A process user could, for example, log in and determine that the purchase had been approved, and that vendor selection had been completed. Being able to check on workflow status makes planning easier and also prevents endless rounds of phone tag.
Even the smallest businesses benefit from automated IT workflows. In many organizations, IT workers are pulled this way and that, and it's not always easy for them to chase down the status of projects when someone asks. Automated workflows not only keep processes on track, they document progress and increase transparency for everyone.
PerfectApps is workflow software designed with both power and flexibility in mind. Users in a wide range of industries are able to create customized workflows for nearly unlimited business processes, including IT processes like the ones mentioned above. Better still, you can try PerfectApps for free by signing up for a trial. If you have any questions about using PerfectApps for your IT or other business processes, please feel free to contact us at any time.