Virtual reality (VR) represents a "slow burn" disruption happening in the workplace.
While some companies regularly use VR technology now, it will probably be another three to five years before it becomes commonplace. We're just now figuring out how to put VR to work, and new applications for it will undoubtedly emerge as everyone gets the hang of the technology.
It is likely that VR will become elemental to many types of automated workflows as the technology matures. Some current VR applications make sense as part of automated workflows, particularly in the areas of training, 3-D viewing, and collaboration.
VR in Training Programs
Perhaps the most obvious use for VR in automated workflows is in training. The very first flight simulator (an early form of VR) became available for sale back in 1929! These early designs gave way to more elaborate simulators costing millions of dollars that were used to train airline pilots as well as military pilots. And today, VR can make the experience more immersive than ever.
The range of application for VR in training workflows is potentially huge. Automated virtual reality workflows could step trainees through processes like handling hazardous chemicals, learning how to use equipment, or even "practicing" surgical techniques. Safety training is predicted to be a major user of VR technology as well.
Using VR to Gain 3-D Views of Designs and Plans
Imagine designing a workshop, home interior, or store layout and being able to "walk" through it using a VR headset. This is fast becoming reality as virtual technology advances to where it can turn two-dimensional plans or blueprints into 3-D virtual spaces that can be visited with the aid of a headset. As the technology becomes more common and affordable, such 3-D "step-throughs" may become a part of automated workflows in architecture, interior design, and other professions concerned with the arrangement of space in three dimensions.
Collaborative Spaces with VR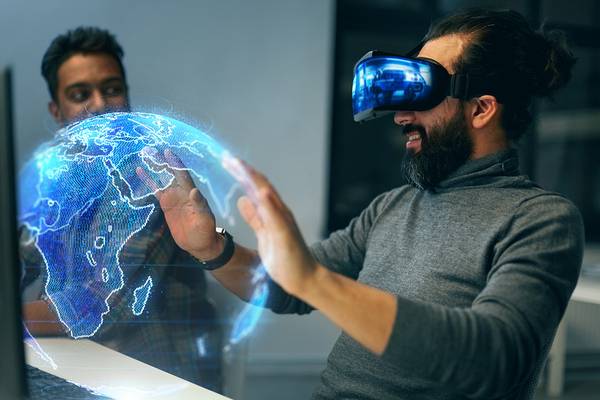 VR allows people from all over the world to meet in a single, virtual "room."
Most companies already use video conferencing as a way to bring geographically dispersed teams together for meetings. Seeing everyone's face and body language makes such remote meetings more informative and engaging than traditional conference calls. Virtual reality may take it a step further, creating virtual 3-D spaces that could take video conferencing into another dimension, bringing people together in a single virtual room from all over the world.
Workflows Involving Customers and Consumer Testing
VR technology exists on some level in high-end clothing retailers' dressing rooms, allowing people to virtually try on clothing. Consumer choice data from virtual dressing rooms could help retailers learn quickly which trends are catching on, and which are not worth investing in, potentially reducing waste while still giving consumers what they want.
Potential applications for consumer testing are practically endless. Imagine designing a car and allowing consumers to virtually test drive it before the design is finalized. Or having customers customize their own bicycle design and then virtually "ride" it before placing an order to have it built.
There are already a handful of companies offering VR solutions for the workplace, and you can expect many more to emerge in the coming five years or so. While inserting VR won't be appropriate for all automated workflows, it is likely to be a smart addition to many of them.
Automated workflows, like those you can create with PerfectApps, power businesses in every industry, allowing consistency, efficiency, and collection of valuable data every day. With PerfectApps, you can create customized online forms and automated workflows for an endless range of applications, from HR to building maintenance to IT and more.
Even without VR, automated workflows save businesses considerable time and money, raising revenues and streamlining operations. We invite you to look through some of the many PerfectApps case studies and see for yourself how automated workflows transform business operations.