Police departments depend on forms for countless processes.
Though many of the forms police officers use have been put online and made mobile to streamline police operations, forms for use by the general public may still be provided on paper. This brings the problems of paper law enforcement forms (illegibility, mistakes, incomplete information, etc.) into the system, and makes it harder for police to provide certain services.
Online forms for local residents to use for non-emergency situations can not only cut down on the use of paper and ink and the problem of disposing of them, they do away with illegibility concerns, cut down on mistakes, and get key information into the hands of police officers more quickly. Here are a few examples of online forms that benefit both law enforcement agencies and the people they serve.
Reporting Non-Emergency Crimes
Some jurisdictions have resources that are already stretched thin in response to more serious offenses like burglary, robbery, and violent crime. Yet non-emergency crimes, such as non-destructive acts of vandalism happen too, and they affect community morale. Online forms for reporting non-emergency crimes can keep police phone lines clear and ensure that incidents are reported and addressed as quickly as possible.
Citizen Request Forms
When concerned citizens notice an uptick of crime in their neighborhood, they may call their local police and count on the message being passed along to patrol officers. But police business is unpredictable, so it's easy for such reports to get lost when something more urgent comes along. Online citizen request forms for extra neighborhood patrols eliminate many points of failure for such reporting and can be forwarded to patrol officers with no paper necessary.
Vacation House Check
Some communities offer the service of house checks while people are on vacation. Police officers will drive by a house on a regular basis while the owners are away to check for any irregularities or signs of a break-in. This too is an ideal service for using online forms. Vacationers can complete forms at their convenience without a call or visit to the police station, and the information in the forms can be shared easily with patrol units.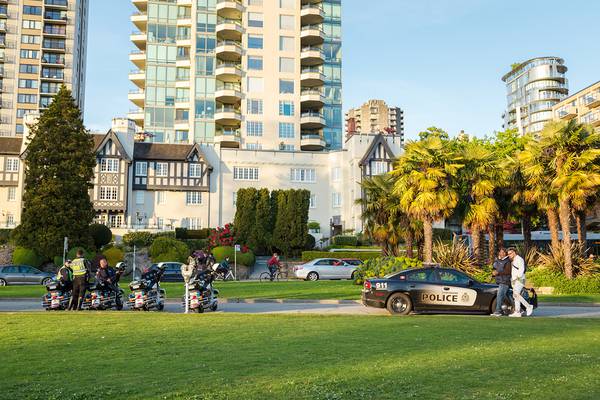 In some communities, police patrols will drive by specific addresses to monitor
for suspicious activity while homeowners are on vacation.
Reporting Abandoned Vehicles
Many communities have ordinances against abandoned vehicles, yet police frequently have higher priority problems to attend to. That's why online forms for reporting abandoned vehicles make so much sense. These forms could even be designed so that users can take a photograph of the vehicle or its plates and attach it so that police know exactly what to look for. This makes it easy for law enforcement to deal with abandoned vehicles when they have room in their schedule, while having the pertinent information right on their mobile laptops or other mobile devices.
Reporting Gasoline Theft from Service Stations
Sometimes communities have problems with people pumping gas and then driving off without paying for it. While this is a big deal to service station owners, local law enforcement often has higher priority incidents to attend to. An online form for reporting such thefts helps gas station employees report incidents right away, while details are fresh in their minds. They could also indicate on the form whether CCTV footage is available that could help police identify suspects.
Not just any form software offers the flexibility, scalability, and power necessary to provide online forms requesting non-emergency law enforcement services. PerfectApps is online form software that allows users to create perfectly tailored forms by dragging and dropping elements into place. It's even easy to add branding elements to online forms.
Moreover, PerfectApps integrates easily with spreadsheets and other office systems, collecting data from every form and routing it as needed. And it has built-in reporting features that allow law enforcement agencies, businesses, and other organizations to make sense of the data their forms collect. Did you know you can try PerfectApps for free by signing up for a trial? Why not give it a try? And if you have questions, we encourage you to contact us at any time.