Few tools help more people maintain more motivation to reach goals than the simple checklist.
While big goals are necessary, they can feel overwhelming at times. Checklists help us break down the tasks that get us closer to our big goals and check off our progress as we go. In fact, the simple act of checking things off a checklist activates the "reward" system in the brain, causing a quick burst of dopamine. In other words, it feels good to check things off a checklist. Psychologists recommend people use them in daily life partly for this reason.
Paper checklists have served people for ages, but electronic checklists are better, especially now that we carry mobile devices around all the time. In fact, the electronic checklist can be an excellent first use of workflow software.
Checklists Customized to Different Business Roles
Rare is the business role that isn't improved by the electronic checklist. Some of the most common types of checklists used in businesses include:
To-do lists, which can be customized to each individual
Task checklists that break down a process step by step
Troubleshooting checklists
Coordination checklists (that are used by multiple people)
"Discipline" checklists that help people avoid making decisions before due consideration
Having electronic checklists on a phone or tablet is ideal, because it's paper- and pencil-free, so fewer physical resources are needed, and the lists won't be lost. And electronic checklists can have features built in that enhance productivity.
Checklist Features that Aid Productivity
With the right workflow software, you can create custom, mobile-friendly electronic checklists with productivity-enhancing features. For example, if steps on a checklist should be done in a particular order (as is often the case with a troubleshooting checklist), if a user skips a step, the checklist can instantly deliver a pop-up notification stating that a "prerequisite" step was not checked off.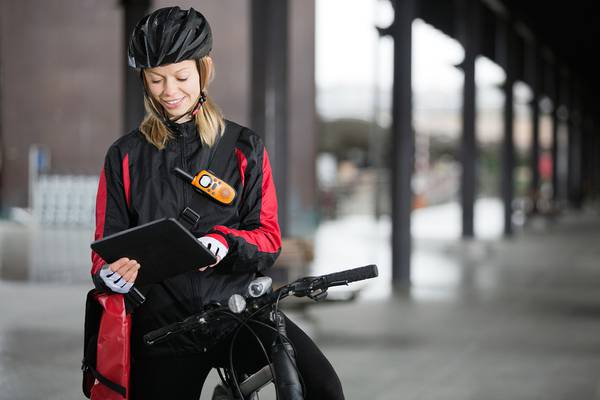 If completion of one person's checklist indicates that some other person's action or input is needed, the electronic checklist can send a notification to that person that the process is ready for their input. And electronic checklists can be made to collect data for later perusal or workflow reporting. Someone could see, for example, that a troubleshooting checklist was completed ten times in a month for a particular piece of equipment, and decide whether it's time to dig deeper or consider replacing the equipment.
An Excellent Introduction to Learning Workflow Software
Another great thing about the electronic checklist is that it can be an excellent introduction to workflow software. Workflow software can be put to countless uses, and at first, the endless possibilities can seem daunting. However, when people go through training on workflow software, developing an electronic checklist complete with data collection and notifications can be an outstanding first project for software users to try.
The great thing about good workflow software is that once a user successfully creates a workflow, they're likely to think of other great workflows that can be developed. Creating an electronic checklist can be the perfect springboard to development of other useful workflows.
The quality of electronic checklists depends in part on the quality of the workflow software you use. PerfectApps is workflow software with a user-friendly interface and no programming. Users simply drag and drop form or workflow elements into place, so it's easy to experiment and go from idea to execution quickly.
Electronic checklists can be amazingly useful, but you will soon want to use PerfectApps for countless other types of workflows, such as workflows for onboarding new employees and workflows for submitting expenses for reimbursement. We encourage you to browse some of our many case studies to see how flexible and powerful PerfectApps is. You're sure to use it for electronic checklists and innumerable other important business processes.