Workflow management and business process management (BPM) are similar concepts, but they are not exactly the same.
Both workflows and BPM address business needs by getting things done more efficiently and with fewer errors, but their roles in a business differ. This naturally leads to the question of whether a business needs separate workflow software and BPM software. In some cases, they probably do. But in many cases, the right automation platform empowers businesses to address both workflow and BPM needs.
It's important to understand the differences in what BPM and workflow management are meant to accomplish before making your decision.
BPM: Strategic and Organizational
BPM addresses the entire organization, focusing on processes that can be analyzed, executed, monitored, and optimized so the business can gain a competitive edge. BPM is a strategic tool kit that assists businesses with continual process improvement.
The focus with BPM software is more strategic and geared toward improving staff productivity and helping leadership measure and control operational processes. While BPM software has workflow features, it allows businesses to organize data, generate insightful reports, and generally ensure that processes operate optimally.
Workflows: Tactical and Often Departmental
Workflow software operates on a more tactical level, allowing companies to digitize everyday processes, automate what can be automated, and define roles as they relate to processes. Whereas BPM operations may cross departmental lines, workflows tend to be contained within a department. For example, a workflow may allow field technicians to enter field repair data into their mobile devices rather than documenting calls once they return to the office.
In short, workflow software enables individuals or groups to break down tasks into their component steps and automate some or all of those steps, so that the tasks are accomplished with maximum efficiency. Workflow software may include reporting so that, for instance, the IT department can run reports on how many service tickets they answered in a given month, or how many old laptops were surplussed last quarter.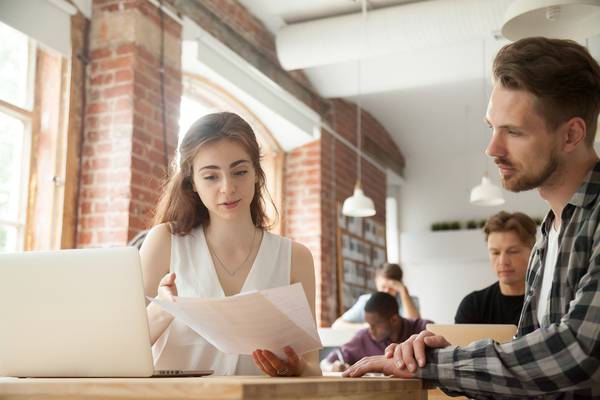 Flexible Software Can Accomplish Both
It is possible to choose one software solution that addresses an organization's workflow software and BPM software needs. It should offer the power to automate complex, cross-departmental processes as well as simpler, everyday processes. It should allow for automatic collection of data when processes happen and have the ability to use that data to create meaningful reports with ease.
Ideally, it should be operated in the cloud so that scaling processes up or down can be done easily, and without changing the organization's on-site IT infrastructure. And it should enable full customization of processes, so that organizations don't have to try to hammer their "square peg" processes into "round hole" software.
PerfectApps is workflow and BPM software in one. Its intuitive user interface allows users to create the simplest to the most complex processes without programming. PerfectApps comes equipped with a rich selection of process templates for commonly used processes, but users can elect to build their own processes from scratch to suit their exact needs.
PerfectApps is available either as a cloud-hosted business solution or as an on-premises application. When run in the cloud, scaling is easy and cost-effective. And PerfectApps allows processes to collect and manipulate data, routing it to spreadsheets, databases, and other systems, creating audit trails, and facilitating powerful report generation. In other words, PerfectApps can address a company's need for both workflow software and BPM software.
To learn how PerfectApps transforms business processes across industries and on many different scales, we invite you to read some of our many case studies. And if you have any questions, we encourage you to contact us at any time.