Automated workflows and new employee recruiting go together naturally.
The hiring process has a lot of moving parts, but strong workflow management can make sure all the parts work as they should while reducing errors and making the process as efficient as it can be. Other benefits of using automated workflows in the hiring process include reduction of paperwork, reduction of status phone calls and emails, time savings, and transparency.
Here are several types of recruiting workflows that can make the hiring process far less painful.
Workflows for Candidate Sourcing
Candidate sourcing begins with creation of an accurate job description. Different companies source job candidates differently, and different types of roles within the same company may be sourced in different ways.
However a company decides to source candidates for a particular position, the right workflow software makes it easy to create a standardized workflow to ensure that ads are placed in all relevant publications, or that all relevant recruiting agencies and websites know about your open position. Such a workflow can be great for reducing duplication of effort.
Workflows for Shortlisting Candidates
How the hiring team creates a shortlist of candidates will also be particular to the company and to the role. Creating a standardized, automated workflow that allows hiring team members to score candidates helps ensure every team member's voice is heard, and that no candidate is overlooked. When a workflow is used for scoring and shortlisting candidates, it's easier to ensure that personal bias doesn't creep into the hiring process.
Workflows for Coordinating Interviews
Coordinating interviews for candidates on your shortlist is a task that is well-suited for automated workflows. Whether the interviews will be in person or via video conference, having a workflow for scheduling interviews, knowing which questions to ask, scoring interviews, and moving on to the next candidate are helpful.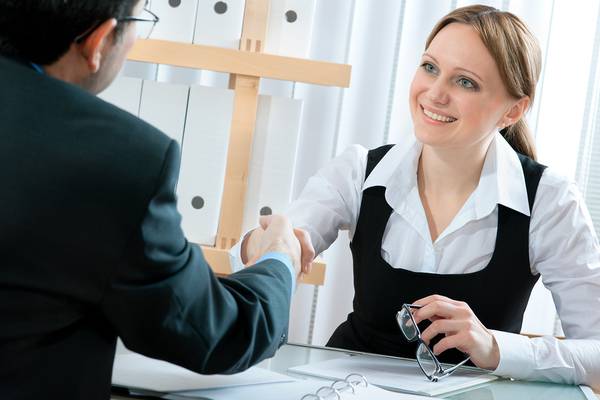 Coordinating job interviews helps ensure the right people are
there to meet and talk to job candidates.
With the right workflow, any hiring team member at any time can check on whether a candidate interview has been scheduled, can prepare for interviews, and can share feedback on interviews. It's a great way to ensure that all hiring team members stay on the same page at all times.
Workflows for Making and Closing Offers
Likewise, a workflow for creating job offer letters, calculating compensation offered, and tracking the status of offers made can save valuable time and duplication of effort. If an offer is turned down, this can be recorded in the workflow for later reference. Once an offer has been made and accepted, the workflow can prompt further actions, such as scheduling the new hire's first day of work.
Workflows for New Employee Onboarding
New employee onboarding is an essential part of the hiring process. How onboarding is handled has a major effect on how likely the new employee is to stay with the company. Automated workflows ensure that no steps are left out, and they can even lighten the new employee's burden by making online forms easy to fill out with autocomplete, and auto-population of form fields.
Whether or not you create automated workflows for recruiting and hiring, you should create a workflow for onboarding because of the many benefits such a workflow offers to your new employee and your HR team.
Creating customized hiring and recruiting workflows requires great HR workflow software. PerfectApps fits the bill. With PerfectApps, no coding is required, and you can create your own forms and workflows from scratch or use the included templates. PerfectApps also integrates easily with spreadsheets and databases, so data can be collected and stored easily. And it offers powerful reporting features so you can make sense of your data and gather valuable insights.
We invite you to watch the PerfectApps demo video to see it in action. And if you have any questions, we encourage you to contact us at any time.