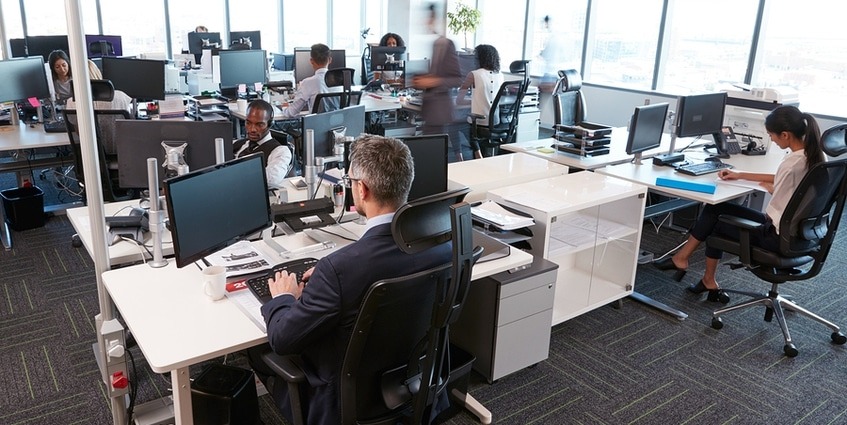 Front-office processes are generally customer-facing, and often include transactions like sales, or making appointments. Back-office processes are generally not customer-facing, and operate on different time schedules. Whereas the front-office must deal with issues as they arise, the back-office may have schedules for performing their tasks. 
Both are essential to business success, yet in too many businesses, the front-office processes are completely separate from the back-office processes. While this may facilitate a certain degree of efficiency within one or the other, it often hinders efficiency for the business overall. When front- and back-office teams share data and understand each other's duties and needs, however, efficiency can be improved measurably.
Problems when Front-Office Processes Are Siloed from Back-Office
Front-office functions don't typically require input from the back-office, but when they do, problems can arise if front-office workflows are completely "siloed" from back-office workflows. Though each may have its own IT infrastructure, staff, and objectives, that's no excuse for allowing them to exist in separate worlds.
Breaking down the silos that exist between departments can benefit all, without stepping on anyone's toes and while preserving the overall "look and feel" of employee tasks. Without silos, questions can be answered more quickly, and solving problems becomes more straightforward.
A Customer Service Example
Suppose a financial services business has front-office personnel who work with customers who need to borrow money. Meanwhile, the back-office processes loan applications and ultimately decides whether or not to extend credit to the customer. If a loan customer calls their front-office contact for a status update on their loan, siloed processes can make what should be a simple process more complicated.
But when there is transparency between the customer service people and the application processers, it is far easier to answer customer questions in the moment, without having to make a note of it, and then track down someone in the back-office for answers. Front-office does its work, back-office does its work, but communication and sharing of relevant data allows both to operate more efficiently.
"On-Boarding" a New Customer Efficiently
An online business that embraces communication and transparency between the front and back offices can strengthen customer relationships faster, helping promote loyalty. Say a new customer places an online order, and the customer's information goes not only into front office and customer service databases, but also into back-office databases.
When this happens, the back-office gathers what could be critical information automatically and can act accordingly. If a new customer creates a profile and proceeds to buy a dozen items, which means those items will have to be restocked sooner than expected, this information can be passed along to the inventory team immediately, so that steps can be taken to keep inventories at the right level.
Workflow Optimization Is the Solution
Automated form workflows that bridge front- and back-office processes are the key to preventing silos that ultimately drain efficiency. Neither party necessarily has to upend its current processes, but workflow software can be used to gather pertinent information from one or the other, and share it as needed. New customer information can be automatically forwarded to the invoicing department, and back-office processes like loan approvals can be communicated to key front-office personnel so they can keep customers in the loop easily.
The key to doing this is having the right workflow software. It needs to be both powerful and flexible, so it can be customized to your workflow processes. It should also allow those who actually use the workflows to design (or help design) the workflows rather than requiring that you hire a programmer. Imagine if your front-office people make an appointment for a new client, and the information they collect is automatically routed to the appropriate back-office personnel to create an invoicing profile. Or consider how much simpler it would be for front-office or customer service people to answer customer questions if they are automatically forwarded relevant back-office information about customer accounts.
PerfectApps is workflow automation software designed to help companies in any industry bridge front-office and back-office functions. With its user-friendly interface, non-technical users can create online forms and design automated workflows that allow them to do what they already do, only better. Want some ideas or inspiration? We invite you to watch our demo video and see how PerfectApps brings the power of online forms and automated workflows to businesses just like yours.